PLEASE ENTER YOUR DETAILS BELOW TO BE PLACED ON RON'S MAILING LIST or FOR MORE INFORMATION
Your Smile is more powerful than you think!
Utilizing a modern day approach supported by scientific data and presented in the most entertaining and fun way with comedy and music, Ron Feingold's "The Power of the Smile" is a wonderful reminder to your Organization that Smiling is vitally important to success!
As a Professional Speaker and Comedian for almost 30 years, Ron Feingold has entertained thousands with his combination of A Cappella Music and Comedy along with his information-packed presentation- The Power of the Smile
Along with stand-up comedy, hilarious anecdotes, a very funny Power Point Presentation and audience participation, Professional Comedian Ron also writes a customized song for every group based on the questionnaire and research he does for EVERY presentation he is invited to!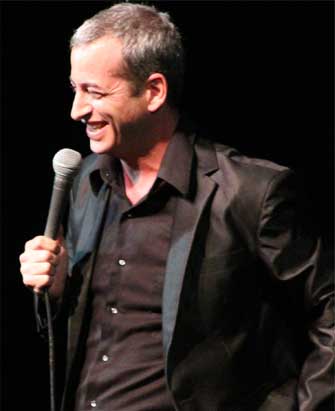 MEETING PROFESSIONALS
Ron is committed to making your event flawless and to make you look good to your clients. It is his promise to make your event successful and memorable to all that attend!
Videos
Watch This Five Minute "The Power of the Smile" Promotional Video
TestimonialS
"He personalized the performance just for West Pharmaceutical. I have never had so many positive comments about the entertainment before."

Kearney, NE
-West Pharmaceutical Services
"I have booked hypnotists before and now have had the pleasure to work with a very talented and very funny comedian. The feedback that we received was wonderful and everyone thought you did a fabulous job."

Dubuque, IA
-Cigna Retirement & Investment Services
"You certainly were a hit with our membership. We received many compliments."

Frankfurt, KY
-KADA- Kentucky Auto Dealers Association
"Not only was your performance hilarious, but you went above and beyond at making the entertainment for the event very effortless for me."

Spring Hill, FL
-Jor-Lyn Marketing, Inc.
"Your thorough professionalism is evident through your ability to capture the spirit of the crowd that you are entertaining."

Springfield, IL
-Illinois Association of Insurance and Financial Advisors
"Your music was wonderful- so talented to sing so many parts…so well!"

-KanOkla Telephone Association Inc.
"Thank you for entertaining Intercontinental Real Estate and Saxena White's clients in Orlando last week! Your show was great and enjoyed by all.
The FPPTA Song was spot on! You were a pleasure to work with!"

The Villages, FL
-Intercontinental Real Estate Corporation
Thanks so much for recommending Ron Feingold to perform at our Spring Conference. Ron did an outstanding job of entertaining a group who can be difficult to please. His style is breath of fresh air that everyone finds appealing.

Denver, CO
-Rocky Mountain Electrical League
We are still talking about your performance for us at our Annual Banquet. You were able to tickle everybody's funny bone no matter what his or her age. I still have drivers coming in and talking about you.

Scottsbluff, NE
-Aulick Leasing Corporation
We were not disappointed! Your performance … The Power of the Smile …. Was fun, entertaining, clean (as corporate shows demand) and very well received. I am still hearing references to "who shuts the light off" in conversations yet still today. The way you incorporated audience participation also enhanced the fun aspect as our group always likes to see one of their own on stage interacting with performers.

Des Moines, IA
-American Republic Insurance Services
The Power of the Smile
Electronic Press Kit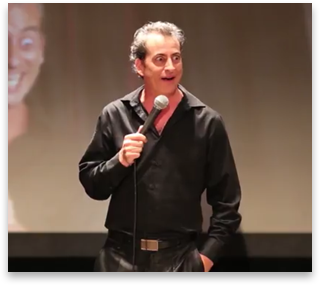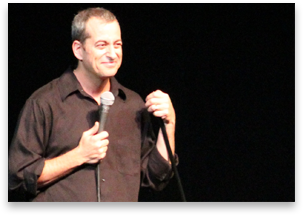 About Ron Feingold
Keynote Speaker Ron Feingold has created something truly unique and wonderful in the world of comedy and music. Fusing stand-up comedy and a cappella music together may sound impossible.
But Ron Feingold has done it!
Introducing Ron Feingold's "Comedy A Cappella!" A blend of traditional stand-up comedy with ear-pleasing a cappella music all sung by one person. What makes this show special is the fact that Ron sings ALL of his own vocals! He sings the bass, tenor, alto, soprano and leads vocals in these funny, up-tempo songs and parodies. In addition, Comedian Ron Feingold created a Presentation entitled The Power of the Smile that explores how Smiling affects every aspect of your life by writing custom material and songs for his corporate clients as he is also a master at establishing instant rapport with his audiences.
This "one man vocal band" has traveled thousands of miles and crossed countless stages since it all started back in January 1990! Ron has performed in 46 of the fifty states, is a regular performer in the cruise and corporate industry and has opened for bands like The Beach Boys, REO Speedwagon, Grand Funk Railroad, BJ Thomas and Grammy winning Jazz vocalist Diana Krall.

Click Here to Download "The Power of the Smile" Electronic Press Kit"
Event Partners
Ron's Satisfied Corporate Clients
Contact
Contact Ron Feingold and The Power of the Smile Today
Give your Organization and Employees Strategies that will last a lifetime- delivered in an entertaining, Powerful and memorable way